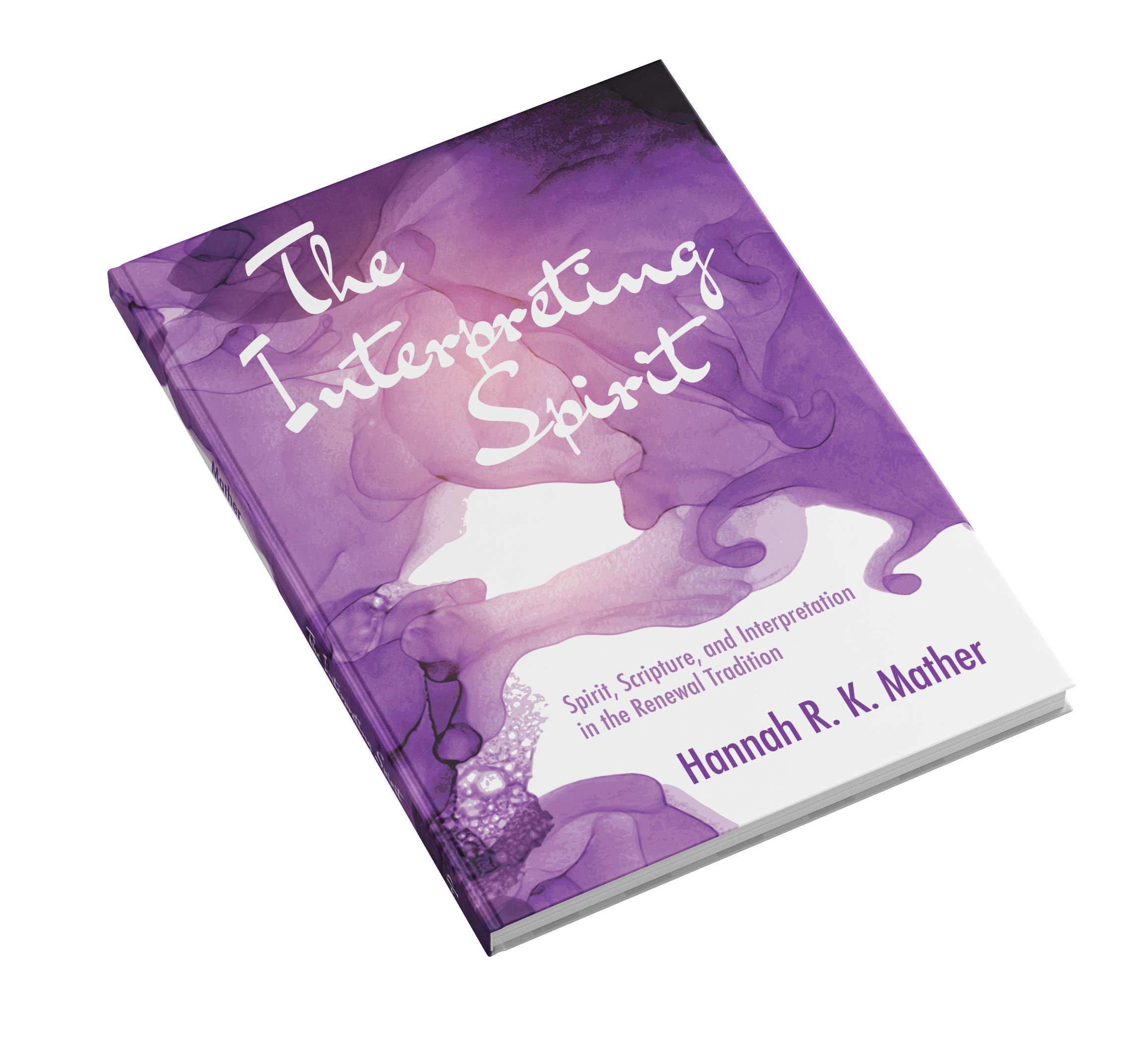 Book
Awarded 2021 Award of Excellence by The Foundation for Pentecostal Scholarship.
The Interpreting Spirit: Spirit, Scripture, and Interpretation in the Renewal Tradition
Publication date: October 2020
This academic work considers how the Holy Spirit works to communicate with someone as they seek to interpret Scripture. Weaving together key themes from 50 years of scholarly writing in the field, the book's central thread concerns a holistic and transformative triune work that can unfold in a person as they pursue insight and understanding whilst in relationship with God. Pivotal to the argument is an emphasis that we do not just interpret Scripture, for the Spirit through Scripture, and working in our lives in ways that lead us toward Scripture, interprets us. The Interpreting Spirit is purposefully written in a style that celebrates others and which conveys that understanding unfolds over time.
"Hannah Mather's Interpreting Spirit offers the most up-to-date and thorough overview of renewal hermeneutics over the past half-century. Irenically highlighting some key themes, Mather strives for a holistic, theological, and practical approach that most importantly engages Scripture for the purpose of, and in the context of, knowing God. This emphasis in part reflects her own spiritual and hermeneutical quest, and reminds us of the ultimate purpose for which believers engage, or should engage, Scripture."
Craig S. Keener, Asbury Theological Seminary
"Perhaps the most comprehensive historical and theological survey yet of renewal hermeneutics to date, Hannah Mather's work highlights the continuities as well as the contrasts between the various exegetical approaches she explores, with insight, clarity, and a clear passion to see the Spirit's work in biblical interpretation restored to its rightful place. The Interpreting Spirit should be the starting point for anyone exploring this crucial field for the first time and will prove to be a great resource even for authorities in the area."
Andrew Davies, University of Birmingham
"How can we begin to describe what the Holy Spirit's doing when we read the Bible? How does the Spirit help us engage, understand, and obey? Mather takes on 'mission impossible' and achieves a truly impressive analysis. Along the way, she celebrates fifty years of renewal scholarship in this field. A remarkable volume! Now it's your turn: read on."
William Atkinson, London School of Theology
CONTACT
Work with Hannah
Please feel free to contact me with concerns related to writing or teaching. My research interests concern the role of faith and spirituality in contemporary society. I am fascinated by the different perspectives we each look at our lives and situations through and factors that facilitate or hinder our perception.